Toly paper toilet seat covers travel packs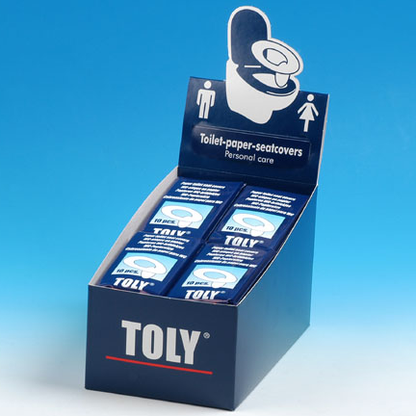 Technical details
Travel pack of 10 paper toilet seat covers
Made of pure pulp paper of 16 gm2
30 pcs. to a display
Art.nr. 80065
Dimensions: 6 x 10 x 1 cm
Weight: 30 gr
Dimension outer carton: 40 x 30 x 24 cm
Weight outer carton: 1,5 kg
Pallet details: 80 x 120 x 210 cm/315 pcs
The perfect solution for people on the move
Toly paper toilet seat covers
Cover the complete toilet seat - more hygienic than putting toilet paper on the toilet seat.
Flush away automatically thanks to the special flap that hangs in the toilet bowl - no touching the toilet seat, no toilet seat covers on the ground.
Flap avoids men, when sitting down, from having direct contact with the inside of the toilet bowl.
Dissolve 4 times faster than ordinary toilet paper - less chance of clogging.